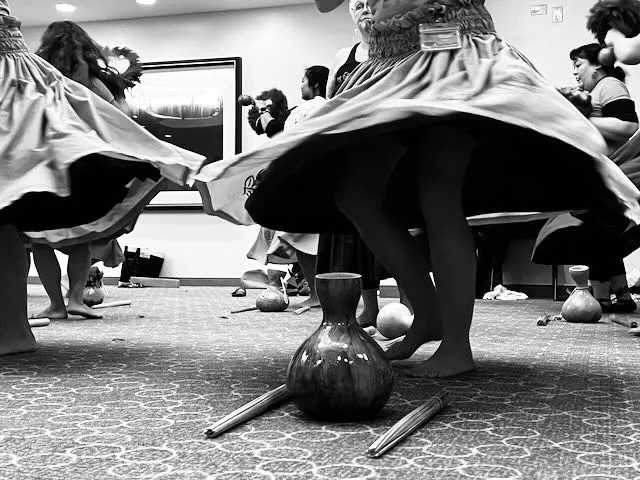 About the Retreat
Now in its third year, the Great Lakes Hula Retreat is PAACOM's signature learning event. This year's retreat, set for October 20 - 23, 2023, will offer intensive master classes for hula students, as well as a hapa haole class that would be great for those who are newer to hula, or just want to learn a fun song.
Retreat Location
Hosted by the City of Novi, MI we're returning to the beautiful Lakeshore Community Building for the 2023 Great Lakes Hula Retreat.
601 S. Lake Drive
Novi, MI 48377
What to Expect
Kumu Hula Kau'i Dalire will once again be the instructor for our event. Although exact offerings will be determined by the Kumu Kau'i, particpants should expect the opportunity to study basic hula techniques, Hula Auana (modern style hula dancing), cultural implements, Olelo Hawaii (Hawaiian language), Hawaiian History and folklore as it pertains to the art of Hula dance.
PAACOM has designed this event to be the Midwest's premier destination for Polynesian cultural arts enthusiasts and practitioners. As always, our focus is on authenticity in instruction with a goal of providing access to the highest quality teachers and course offerings, while highlighting the importance of learning directly from Indigenous instructors. We strive to ensure that the creative expression and cultural knowledge passed on throughout the retreat honors and preserves these arts.
Students at the Great Lakes Hula Retreat can expect the highest quality cultural instruction encompassing all aspects of the art of hula. Throughout the weekend, students will be exposed to Hawaiian values.
Why study with a Kumu Hula?
Breaking down the mele (songs) to help dancers understand what the dance is meant to express
Details about the history, geography and folklore of Hawaii
Guidance on proper cultural costuming & implements
Guidance in proper costuming and implement creation, usage and storage
Learn the differnce between performing hula for entertainment and engaging in hula as ritual protocol
The nuances and layered meanings of words and phrases in olelo Hawaii to help students connect not just to surface level translations, but rather to experience the beauty and poetry of the Hawaiian language
Dance and cultural instruction infused with anecdotes from those who have lived, walked, and worked the land from which the song and dance have emerged
Meet our Presenter
Kumu Hula Kau'i Dalire
Kaui's mission: To perpetuate Hawaiian music and culture around the world, as well as assist established acts and develop the next generation of up-and-coming artists in the music and entertainment industry.
Read More About Kau'i